Blue Hill Escape
on the Blue Hill Nature Reserve
Western Cape, South Africa
"Welcome to our escape from stress, pollution and noise. Welcome to wilderness, nature and tranquillity!"
Blue Hill Escape offer self-catering accommodation on the Blue Hill Nature Reserve, a CapeNature stewardship site on the very scenic south-western boundary of the Baviaanskloof Wilderness Area. We offer an affordable wilderness experience in the Kouga mountains - the heart of the Cape fold mountains. Come walk the hills where leopards and baboons roam wild and see the magical fynbos in flower! Visit us to enjoy days of tranquillity in a malaria free part of South Africa. Your visit will help us protect and preserve an area of outstanding natural beauty.
For official information on COVID-19 in South Africa, visit
https://sacoronavirus.co.za/



For availability please
Email us at info@bluehillescape.co.za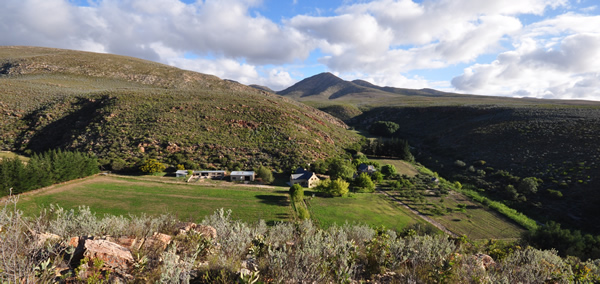 We offer:
Self-catering units
Plenty of space for children to play
Hiking and mountain bike trails
Karoo stargazing
No TV, wifi
Limited cellphone reception
No pets allowed
With your booking you automatically agree to our Terms and Conditions.