Research Projects
We are currently at stage one of a long-term monitoring and research project, focused on fynbos, birds, leopards and baboons.
Wildlife
We are active participants in the South Africa Bird Atlasing Project 2 (SABAP2). We are hosting a special weeked from 8 - 10 October to ensure better coverage of this area and to allow atlas members to network.
The trust has purchased four cuddyback automatic cameras in order to document terrestrial mammal life on the reserve. Click here for a selection of the wildlife photos acheived to date. In addition the Landmark Foundation (specialising in Leopard conservation) have installed three cameras and are attempting to catch this elusive male: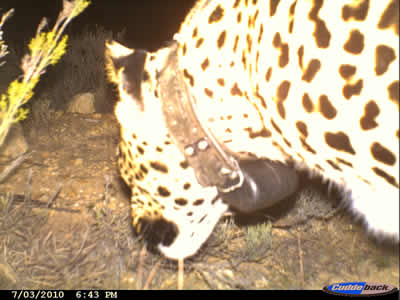 Geology
Our first geological project is to map the ancient continental surface that is found sporadically across the area. This ferrocrete, an remnant of the original Gondwanaland super-continent, forms caves and interesting land features in the Uniondale area.
We are looking for partners or a student who would wish to perform a soil profile analysis, possibly using carbon dating, to age the profile of the sediment structure of the alluvial plains surrounding our property. Please contact us if you are interested!
Community outreach
In order to convey our respect for wildlife to the people who work and live here, we hold slide shows, talks, and go for walks with the the beautiful people of Baviaanskloof.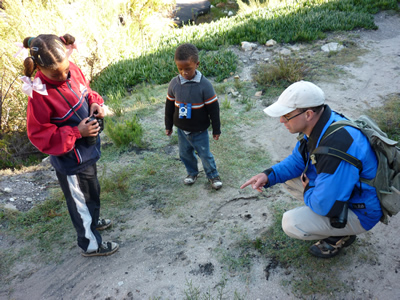 Wattle cleared from our land is destined for Uniondale as firewood. We do not charge for this service, which Uniondale citiziens collect when they wish. We occasionally have the honour of providing wood to Edward Walker, a master South African wood-worker. Below is an example of his work entitled "In honour of women" exhibited at the Feathers Gallery in Knysna.